Halloween is my FAVORITE holiday. I'm a costume making fiend. Every year I (Marissa) make close to 500 costumes, yeah I know it's crazy. But this year I wanted to make sure that I while I'm dressing up people, I take some time to dress my home up for the festivities. So today I'm sharing a super easy Monster pillow tutorial. Even if you are a super newbie sewer you can do this. It's very little sewing and a great beginner project or speedy project if you're more comfortable around a sewing machine! What You Need
1/2 Yard main fabric (my purple)
Red Fabric about 3×5 scrap
White Iron-on Vinyl
Black Iron-on Vinyl
I'll be giving measurements to make a pillowcase to fit a 16-17 inch square pillow but you can easily adjust the measurements to fit a different size. To see how to figure out how much fabric you need or to make a very basic pillowcase see my quick envelop pillowcase tutorial.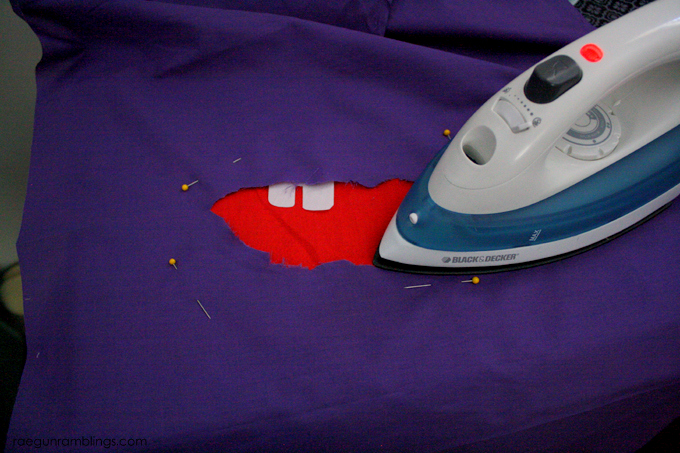 Start by cutting your fabric to 17 inches by 38 inches. Fold in thirds so that you have a 17X17 square and then flaps that overlap. If you can't picture this see this post. Iron the folds to give you a guide when placing your face pieces.
Finish both edges of the flaps with a skinny hem.
Cut a jagged mouth making sure to position it on the center 17X17 area in the lower center. Rub the edges of your cut to make it fray.
Pin the red scrap behind the opening that you made for the mouth.
Cut some teeth out of iron-on vinyl and iron into place. If you've never used iron-on vinyl it's one of my favorite craft supplies and I have post all about how to use iron-on vinyl you can check out.
Cut eye pieces out of white and black. I just free hand cut circles out of white and pupils out of black and layered them. Iron into place.
Sew around the mouth to tack down the inside mouth fabric.
Fold the flaps over so that they are covering the face and pin.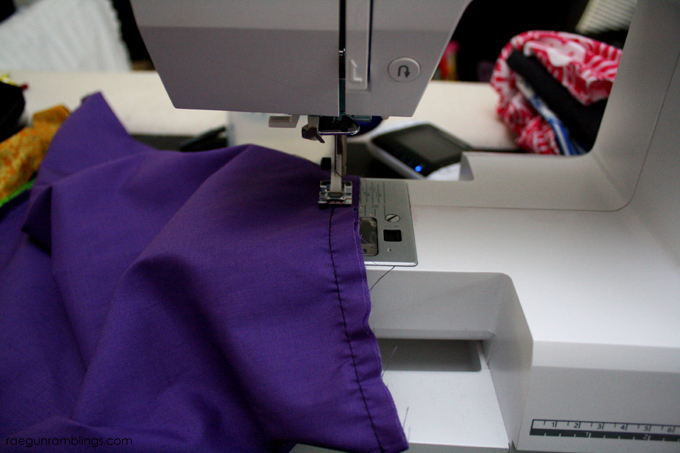 Sew down both sides so that you catch all three layers of fabric.
Turn right side out and you've go your pillow case ready to be stuffed!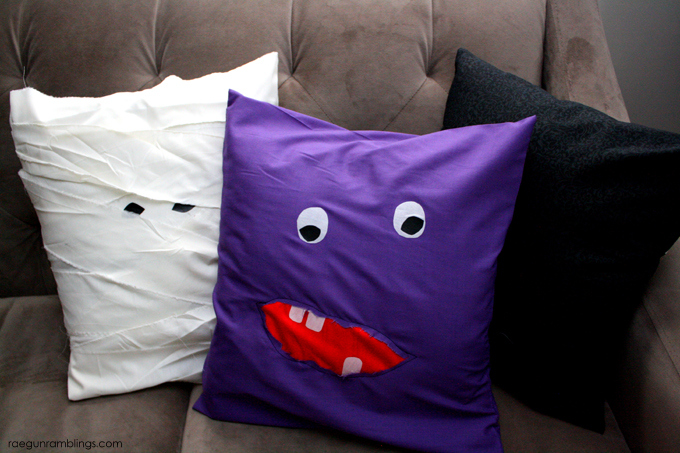 I hope you like this easy Monster Pillow Case tutorial if you want to make the Mummy Pillow Case it's just as easy. For more Halloween fun make sure you visit me at my blog Rae Gun Ramblings. And just for fun here are 3 of my favorite Halloween posts!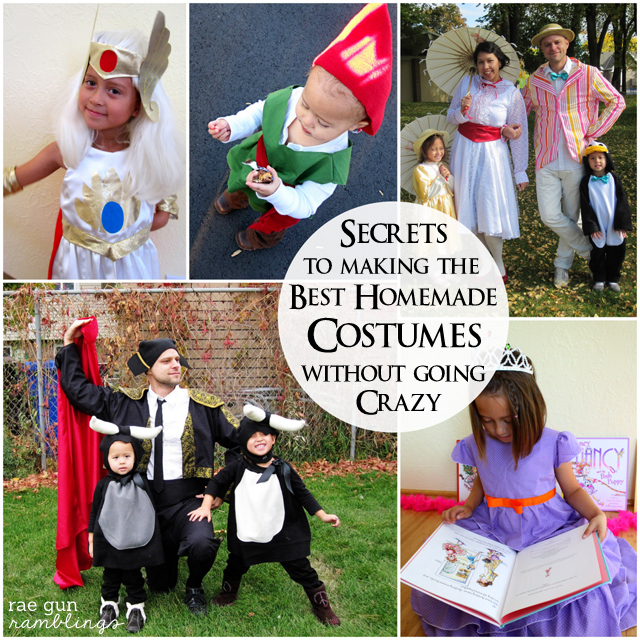 All My Best Costume Making Tips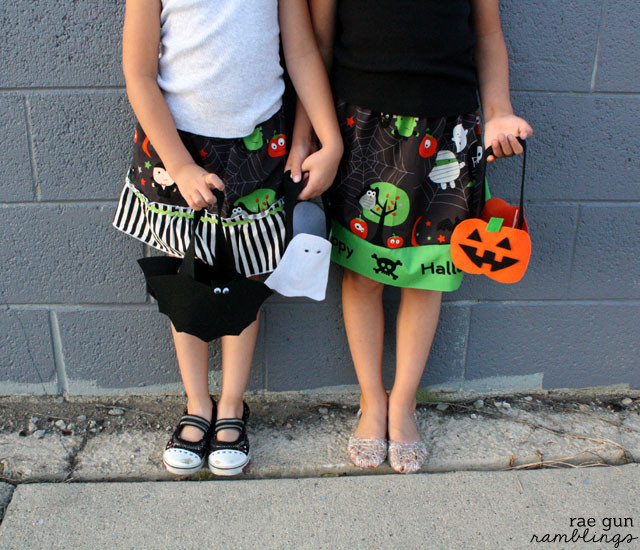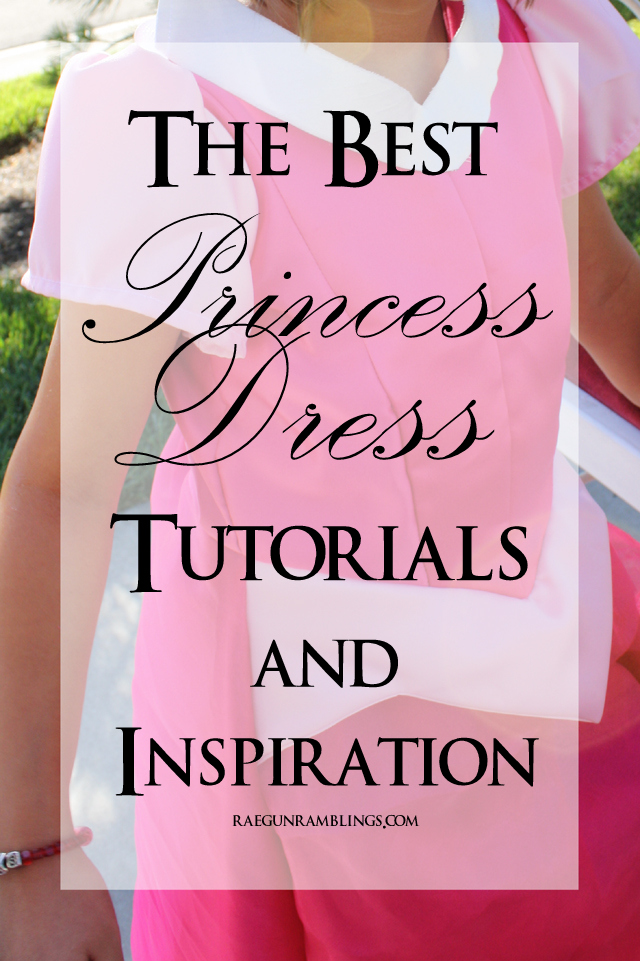 My favorite thing to sew are Princess Dresses and here are some of my favorite tutorials and tips for making your own princess dress!
Marissa's a huge Harry Potter fan, lover of fried food, Instagram addict, and new mama to 6 month old Teddy. She spends her days sewing baby clothes for her shop Rae Gun and blogs over at Rae Gun Ramblings where she loves to share her favorite recipes, creative tutorials, and book recommendations.
Let's connect! You can also find me hanging out here.
The following two tabs change content below.
I'm Vanessa and it's my mission in life to spread my love of hot glue guns and glitter to others. I suffer from craft ADHD, regularly working on at least 10 projects at the same time and my craft room looks like a tornado hit it. My first craft book, Party in a Jar, was published in 2014. I look forward to crafting with you!