Good morning! I'm Lisa Mabey from Mabey She Made It, a DIY, craft, and sewing blog. I'm so excited to be here today sharing a fun Halloween project with you. I don't now what it is about Halloween, but I have a VERY narrow aesthetic for decor. I don't like scary; I don't like macabre. I don't like cartoony; I don't like cutesy. I like what I'll call Romantic. This made-up-style a bit classy, mostly black and white, and a bit untraditional (i.e. it could easily pass as not-Halloween decor). With candy corn thrown in because I love it.
And with that disclaimer, I introduce my Halloween Treat Jar.
It's really easy and simple, and yet the result looks quite refined–it doesn't even need to qualify as Halloween decor!
You'll Need:
An empty jar (cleaned and with the label taken off)
Black spray paint
Black lace
Ribbon
Crystal knob
Double-sided sticky tape (the strong stuff)
A drill or nail and hammer
Let's Get Started:
Clean and take the label off your jar. If your jar has some glue residue on it, try a little peanut butter on it and rub it in until the oil breaks down the adhesive–then wash it off!
Spray your jar lid using your spray paint, and set it aside to dry.
Adhere the lace to the jar using the double-sided adhesive.
Tie the ribbon around the jar, and place a little adhesive behind the knot to keep everything in place. Trim your ribbon as desired.
Drill a hole in (or pound a nail through) the middle of the lid then screw the crystal knob into place.
Fill it with treats!
It's something that I can call Halloween decor, but really I'll use it year round just because I like it. You could even put it on a little pedestal and it would look so elegant with white butter mints in it…Okay now I need white butter mints…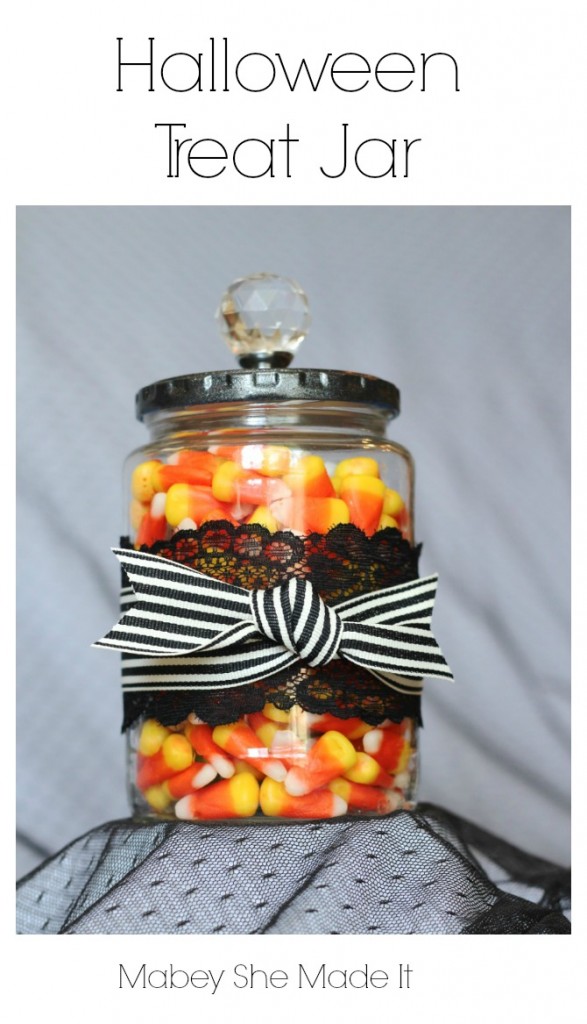 I hope you had fun making a Halloween Treat Jar with me. And I also hope you'll come visit me at Mabey She Made It or follow me on Facebook, Twitter, Pinterest, Google + and Instagram!
The following two tabs change content below.
I'm Vanessa and it's my mission in life to spread my love of hot glue guns and glitter to others. I suffer from craft ADHD, regularly working on at least 10 projects at the same time and my craft room looks like a tornado hit it. My first craft book, Party in a Jar, was published in 2014. I look forward to crafting with you!