This shop has been compensated by Collective Bias, Inc. and its advertiser. All opinions are mine alone. #UltimatePitStop #CollectiveBias
Have you seen Disney•Pixar's Cars 3 yet? We loved it and can't wait to watch it again and again. In the meantime, while we wait for the movie to come out on Blu-ray, we found some fun Disney•Pixar's Cars 3 toys. Amazon is the ultimate pit stop for Cars 3 merchandise! My kids especially love the Just Play Cars 3 Mack Mobile Tool and Just Play Cars 3 Transforming McQueen Tool Kit. Both sets come with tools to get McQueen ready for the race. Kids can remove tires and add them back on, like a real pit crew. Mack's truck has a working lift, a spot for tools and can open for more playtime fun. It also has a handle for easy transporting.
With children, sometimes it feels as if our house is drowning in toys. We have a toy bin system that works fairly well. The kids can each take out one bin of toys at a time, putting away anything that they are no longer playing with. Sometimes, usually when mom is busy multitasking, toys get left out. I created a "Mom's Ransom Bucket" and anything not put away, goes in the bucket. In the morning, in order to free their toys, they need to do a chore listed on a popsicle stick on the bucket. The chores include things like: dust the furniture, water the plants or ask mom for a chore (my personal favorite).
This morning, my youngest wasn't too thrilled with the idea of her toy being held hostage and having to do a chore. My oldest told her that he'd help her do her chore and was a great mentor as he walked her through the task. Definitely a great mom win! Disney•Pixar's Cars 3 has a theme of mentorship and helping others, something we strive for in our family's values. I loved seeing my oldest showing my youngest how to work some of the tools that came with the sets. These toys are perfect for teaching teamwork! © 2017 Disney/Pixar
SUPPLIES
White Bucket
Black Adhesive Vinyl
Vinyl Transfer Tape
Vinyl Cutting Machine
Small Paper Bag
Popsicle Sticks
Double Sided Adhesive
TUTORIAL
Step 1: Shop on Amazon for Just Play Cars 3 Mack Mobile Tool and Just Play Cars 3 Transforming McQueen Tool Kit. Get the rest of your supplies too! LEGO Juniors Thunder Hollow Crazy 8 Race Building Kit, Disney•Pixar Cars 3 Crazy 8 Crashers Smash & Crash Derby Playset, Disney•Pixar's Cars 3 Apparel and Disney•Pixar's Cars 3 Bedding are also available on Amazon.
Want to check out Disney•Pixar's Cars 3 merchandise? Hover over the photo to click through to Amazon.com and buy!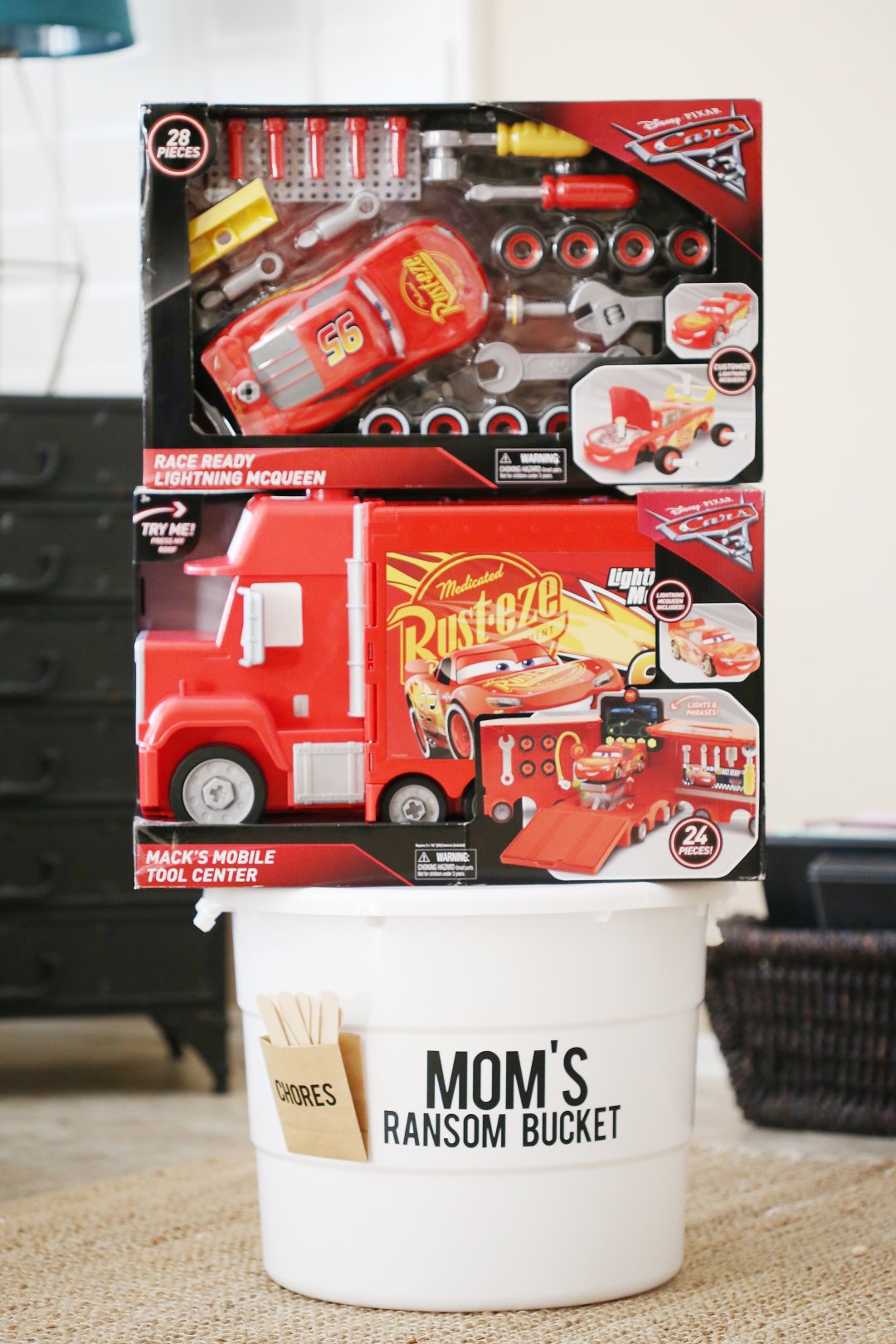 Step 2: Use a vinyl cutting machine to cut out the words "Mom's Ransom Bucket", large enough to fit on the bucket. You can also cut out the word "CHORE", small enough to fit on the bag. Weed out any extra vinyl that you don't want to go on the bucket. Use vinyl transfer tape to adhere the vinyl to the bucket, following the instructions on the vinyl packaging.
Step 3: Use vinyl transfer tape to attach "chore" to the paper bag. Attach the bag to the side of the bucket using double sided adhesive. Write out chores on the popsicle sticks and place inside of the bag. At the end of playtime, place any toys not put away in the bucket. Kids can do a chore listed on a popsicle stick in order to retrieve their toy from the ransom bucket.
Step 4: Let them play!
Visit Amazon, the Ultimate Pit Stop for Disney•Pixar's Cars 3 merchandise! How do you keep toys organized and encourage sibling teamwork?
The following two tabs change content below.
I'm Vanessa and it's my mission in life to spread my love of hot glue guns and glitter to others. I suffer from craft ADHD, regularly working on at least 10 projects at the same time and my craft room looks like a tornado hit it. My first craft book, Party in a Jar, was published in 2014. I look forward to crafting with you!