Hi, See Vanessa Craft readers! I'm Melanie, and I blog over at It Happens in a Blink. I am the proud mom to a preschooler and a set of triplet boys (yep, I saw that double-take). As you can imagine, my time to cook and craft is extremely limited. I post recipes and projects that anyone with a limited time frame can accomplish. Sometimes I share my funny tales of motherhood, and readers may also find me talking about products or brands that I've found that make my life easier. I hope you'll come visit me on the blog soon (I may have an Ah-MA-ing Black Friday giveaway going on, hint, hint)!
Thanksgiving is over, let the Christmas rush begin! I'm not one of those crafters who embellishes every gift. I just don't have the time to make custom bows for all thirty-some gifts that I have to wrap. Anyone out there feelin' my pain? However, I've found that one way I can easily customize gifts and add a nice handmade touch is with handmade gift tags. I'll be sharing a variety in the coming days over on my blog, but today I would like to share with you easy Washi Tape Gift Tags.
Supplies:
Blank gift tags- these can be any color, any size. Purchase these at an arts and crafts store, or those lucky enough to have a Cricut or Silhouette can cut out a slew of these on their machines
Varying selection of washi tape or paper tape
Baker's twine
Preferably a self-healing mat for cutting
Exacto knife
Lay out a blank tag on the self-healing mat. Arrange the washi tape in the desire pattern, allowing a little to go off the edge of the tag. See illustrations 1-4 below.
Use exacto knife to cut the edge cleanly. See illustration 5 below.
I also had a pretty crochet tape on hand, so I used it to accent. See illustration 6 below.
Tie a length of baker's twine through the hole.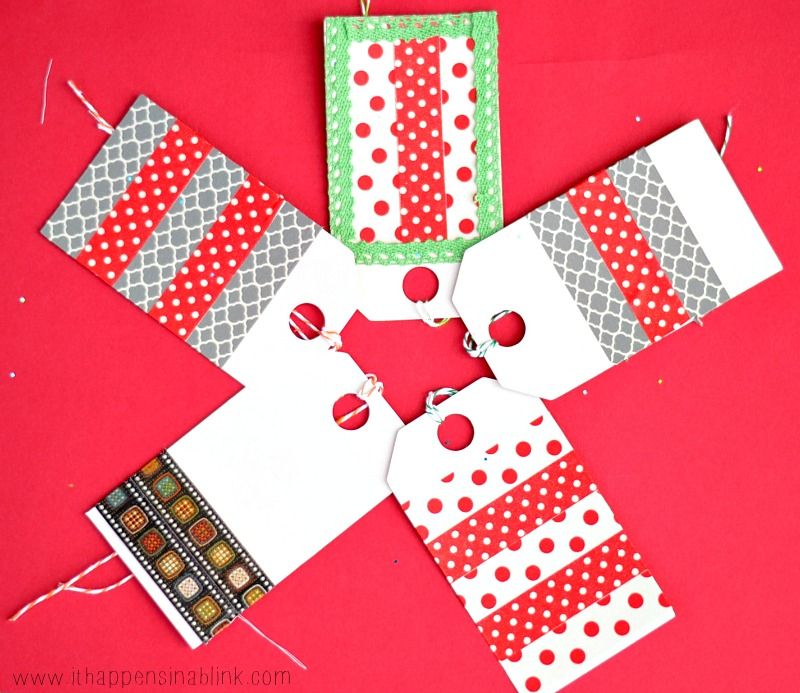 It Happens in a Blink time frame: This is a super quick craft! One tag takes about 2-3 minutes once you get started.
OK, so now you have your gift tags- what gift will you pair with them? Check out some of these projects for gift ideas: